How to mine ethereum on windows
¿How to mine Ethereum on windows? Ethereum mining is a task that requires many resources, a lot of time and processing power. Ethereum miners receive rewards in exchange for providing solutions to complex mathematical problems using blockchain technology, just like with Bitcoin mining.
Ethereum is the first "global computer". It is a decentralized network that can be used by anyone and is capable of running applications without the possibility of downtime, censorship or fraud. But have you ever wondered how you can mine Ethereum on a conventional PC? If what you want is to start mining this cryptocurrency right now, here we explain how.
In this tutorial we will explain how to mine Ethereum on a Windows PC. We have chosen the Claymore DualMiner mining client and the Nanopool mining pool.
Claymore DualMiner is the default client of most Ethereum mining enthusiasts. It allows you to mine Ether along with another cryptocurrency such as Decred / Siacoin / Lbry / Pascal simultaneously, thereby maximizing the parallel processing power of the GPU.
Nanopool is one of the most popular mining pools of the moment to mine Ethereum, Ethereum Classic, Zcash and Monero. Through its official site https://nanopool.org/ we can easily install and configure the Claymore Dual Miner mining client, as we will see below.
Some of the advantages of this mining pool are the following:
The rate is only 1%
Regular payments
No extra payment commission
The default minimum payment is 0.2 ETH
Adjustable minimum payment threshold
Requirements
An AMD / NVIDIA graphics card with a minimum of 3 GB of GDDR5 memory *
The latest graphics drivers available
Windows 7 x64 or higher
A wallet address or Ethereum wallet.
* Ethereum mining at this point requires a GPU at least 3 GB due to the size of the DAG file. The DAG (Directed Acyclic Graph) file is essentially a database of the existing blockchain. To extract the next block, your hardware must know all the existing blocks. At the time of writing, the DAG is just over 2 GB and continues to grow. The vast majority of mining customers load all the DAG into the VRAM of your graphics card. Without sufficient capacity, the GPU can not even start mining operations.
Optimal configuration of Ethereum mining on a Windows PC
Based on expert opinions, we believe that this is the best possible configuration for mining Ethereum and other cryptocurrencies based on the Ethash algorithm (November 2017):
Processor: Intel Celeron G3900 – LGA1151
Motherboard: Gigabyte GA-H110-D3A – LGA1151
GPU: Sapphire Radeon NITRO + RX 580 8GB
RAM Memory: Ballistix Sport LT 4GB DDR4
SSD drive: Silicon Power 60GB SSD
Power supply (up to 5 GPUs): * EVGA SuperNOVA 1200 P2 80+ PLATINUM
* To calculate the total energy consumption of the equipment use the Outervision online watt calculator: https://outervision.com/power-supply-calculator
How to mine Ethereum on a Windows PC
1. Download Jaxx

We need a wallet or Ethereum wallet address to receive the rewards for each mined block. In this case we have chosen Jaxx, a light wallet and quite safe. Jaxx is multiplatform and supports different cryptoactives, such as Bitcoin, Bitcoin Cash, Ethereum, Ethereum Classic, Litecoin, Dash and Zcash, among others.
Download the Jaxx client for Windows from its official site https://jaxx.io/, or if you prefer, the extension of Google Chrome, which only weighs 3MB.
Once the file is downloaded, run it and proceed to create a new Ethereum wallet.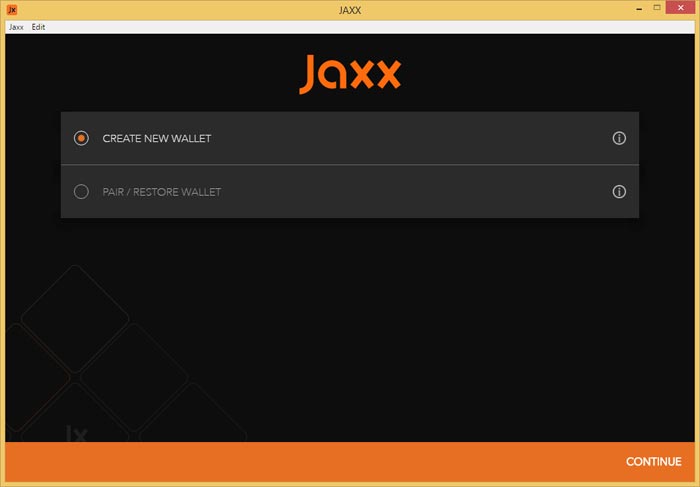 Select "Ethereum" from the list of options and click "take me to my wallet"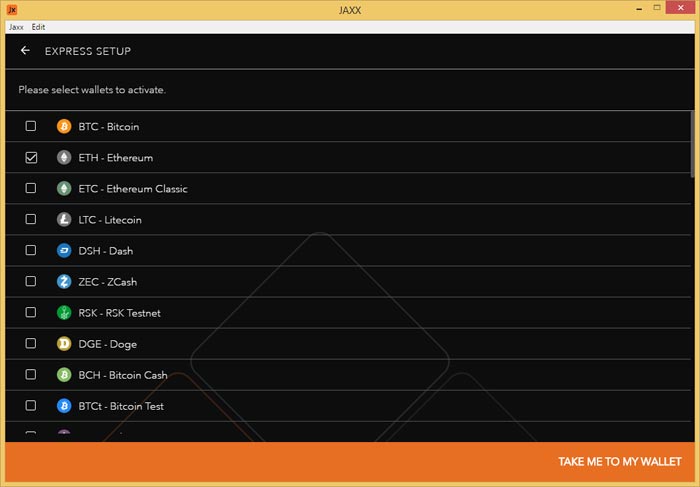 Copy the address of your wallet and keep it in a safe place, as we will need it later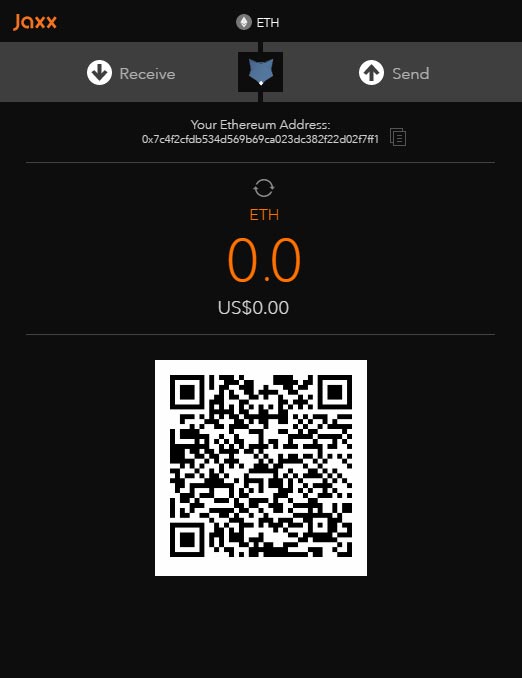 2. Download Claymore
The next step will be to download the Claymore Dual Miner mining client from Nanopool website. From here we can not only download the most compatible version of the mining pool, but we can also configure the client in a simple way.
To do this,  go to https://nanopool.org/ and click on the "quick start" button located at the bottom of the Ethereum box.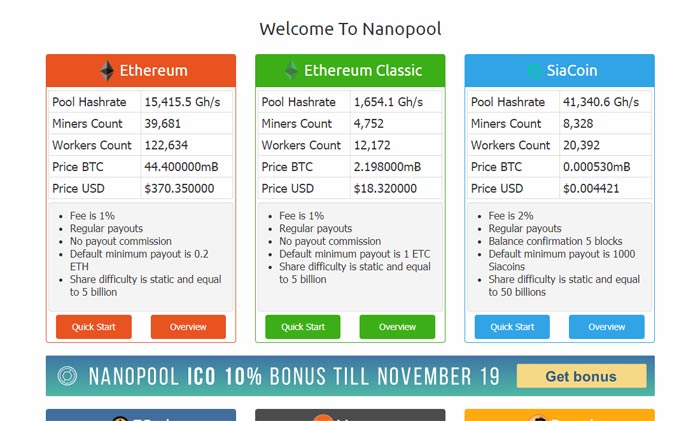 A new window will open from where we will download the mining client (navigate to the "How to connect" section).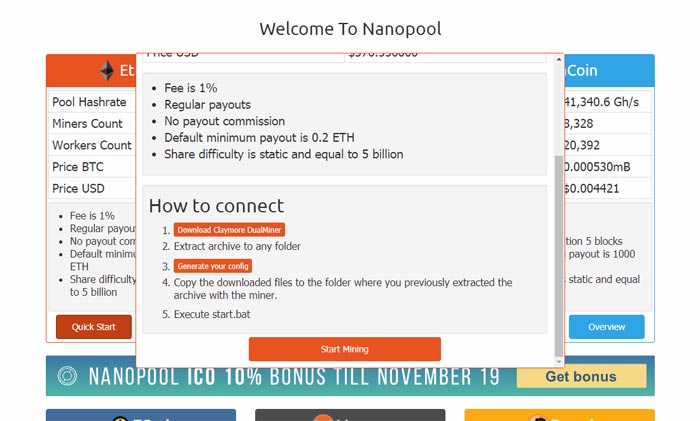 Now click on "Download Claymore DualMiner" to start the client download, which will be contained in a .zip file ("Claymore.s.Dual.Ethereum..GPU.Miner"). Once you have downloaded it, create a new container folder in any location of your PC (For example in: "C: / Claymore"), and extract all the contents of the .zip file that you just downloaded there.
3. Create the configuration file
Go back to the main page of Nanopool, and from the "quick start" window navigate to the "how to connect" section, and now click on "generate your config".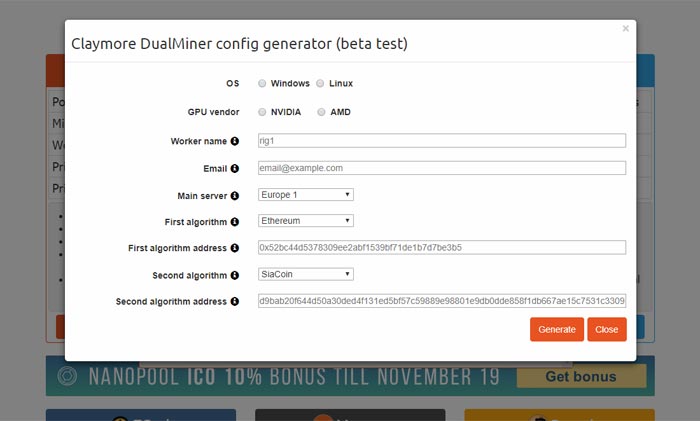 A new window will open in which you will have to indicate the configuration parameters of the mining client:
OS: Your operating system (Windows / Linux)
GPU vendor: Select the manufacturer of your GPU (NVIDIA / AMD)
Worker name: Set the name of your worker, for example: "rig1" (try not to use blank spaces)
Email: Enter your email address.
Main server: Select the server closest to your geographical location.
First algorithm: Select the main mining algorithm, in this case we will choose Ethereum
First algorithm address: Your wallet address or Ethereum wallet (place here your Jahere Ethereum address)
Second algorithm: Select the secondary mining algorithm for dual mining, or if you prefer, select "none" to mine only Ethereum
Second algorithm address: Enter the wallet address of the secondary algorithm (if you are only going to mine Ethereum leave this box blank)
Once you have finished, click on "generate". Nanopool will create the necessary files to configure the miner. Upon completion, a compressed folder (claymore_config_nanopool.zip) with the following files will be downloaded:
epools.txt
start.bat
Extract these 2 files in the folder where you previously extracted the files from the Claymore mining client.
4. Execute the miner
Our mining client is now ready to start mining Ethereum. To start it, we just have to execute the file start.bat that we just extracted in the container folder, and once this is done, we will only have to wait for it to start. A new command window will open indicating the speed and other mining statistics. We will not need to do anything else.
Congratulations! You're already mining Ethereum.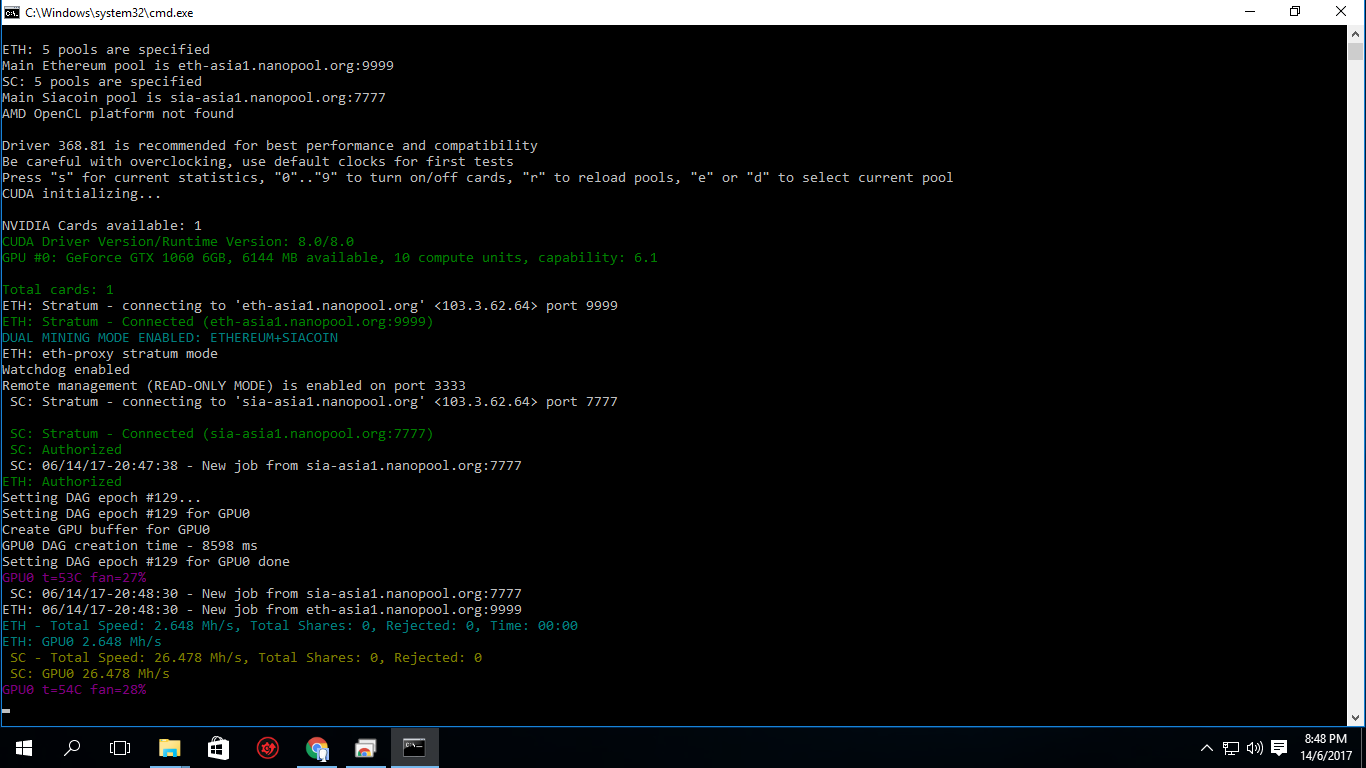 5. Check the status of your rig
Once we have started to mine, we can check that everything works correctly by entering our Ethereum address to the Nanopool website.
Enter the Nanopool Ethereum mining portal: https://eth.nanopool.org/
Copy the address of your Ethereum wallet or wallet and paste it into the search box located in the top navigation bar (where "Address" is indicated) and then click on "Search"

If everything works properly, a page will be loaded with the latest statistics of your mining rig, mining time, hashrate, income, etc.
Mining on a Windows PC, Verdict
---
---
As you can see, this is one of the easiest ways to mine Ethereum today. If you still have problems, or prefer a simpler method, there are some options available in the market, such as the mining clients  like MinerGate (https://es.minergate.com/) and Nicehash (https: //miner.nicehash .com/).
These mining clients are recommended especially if you do not have much experience, since they have an intuitive graphical interface, and also have some advanced functions, such as mining the most profitable cryptocurrency of the moment automatically.