New and promising cryptocurrency NAGA Coin closes Token sale on December 15
Next December 15th, the sale of this new and promising cryptocurrency, NAGA Coin, ends with an initial price of $ 1 / NGC
NAGA Coin ICO, the first decentralized exchange for virtual goods.
NAGA Group has just launched the first decentralized exchange for virtual goods and financial instruments. With NAGA Coin ICO, the Naga team aims to establish the first crypto-gateway to commercialize financial instruments and virtual goods in a safe and transparent manner.
Why Naga Coins?
Corporations and banks have control of trading and investments. Many times these institutions restrict access to the public, employ unethical practices and charge commissions for all transactions. As a result, the industry suffers from the low liquidity of virtual goods and cryptocurrency, and the lack of a platform that unifies financial markets, videogame items and virtual currencies. In addition, the complex and elitist nature of financial markets prevents more than 2 billion people around the world from accessing banking services.
Then arises NAGA Coin, a decentralized cryptocurrency for:
Financial markets

Virtual Goods

Cryptocurrency
NAGA Wallet and the virtual goods market
NAGA Wallet will serve as an ecosystem for the social commerce of cryptocurrencies, stocks, currencies and virtual goods. One of the key ideas behind this pioneering project is to eliminate fraud in the virtual asset market.
The virtual goods market is a big market. However, there is still no centralized exchange for this purpose. In fact, this is where the Naga wallet and the Naga currency fit together.
Through the Naga and Naga wallet and the Naga currency, players, traders and developers can negotiate safely and transparently without worrying about the security of their transaction.
Why will the demand for NAGA Coin (NGC) grow?
The NGC is the base currency of all the platforms of The NAGA Group, which already process volumes of billions of euros each month. That means that the demand for NGC will grow with each person entering the NAGA ecosystem.
Since the new users will deposit their traditional currencies and cryptocurrency in NAGA Wallet, NAGA will have to buy NGCs in the exchange centers to satisfy the demand. Likewise, some users will choose to buy the NGCs directly. All this will increase the demand, which in turn will enhance the token! The offer of NGCs is limited. In terms of demand, well, there are more than 2 billion potential buyers.
Road Map of The NAGA Group
October 2015: The NAGA Group AG is born
February 2016: Hauck & Aufhaeuder, one of the oldest banks in Europe, invests in NAGA
February 2016: wins prize for best event at the FINOVATE Conference in London
June 2016: SwipeStox executes its first operation with real money
August 2016: Fosun agrees to create a joint project and invests more than 12 million euros in NAGA
November 2016: Creation of the joint company for SWITEX
July 2017: Demand at the launch of the NAGA share is 3.5 times higher than expected
September 2017: Launch of the SwipeStox Autocopy and CYBO 2.0 features
September 2017: The capitalization of NAGA reaches 200 million euros
November 20, 2017: Presale
December 1, 2017: Main Sale
December 15, 2017: Closing of token sale
April 1, 2018: Launch NAGA WALLET
May 1 2018: Integration of NGC as accepted currency within SwipeStox
June 1, 2018: Launch of the NAGA debit card
Quarter 2 of 2019: Launch of the P2P  (Zero Commission) NAGA Crypto-Exchange

Where to buy NGC?
If you are reading these lines before December 15, you still have the opportunity to buy NAGA Coins, actual price $ 1 / NGC. Click here to go to NAGA COIN ICO page.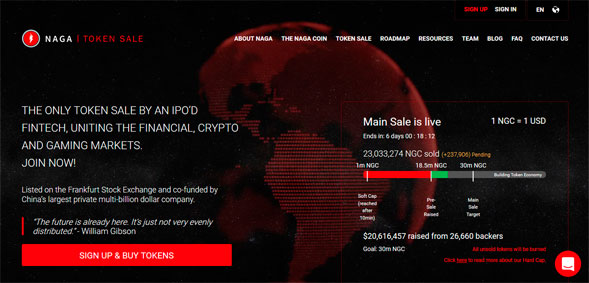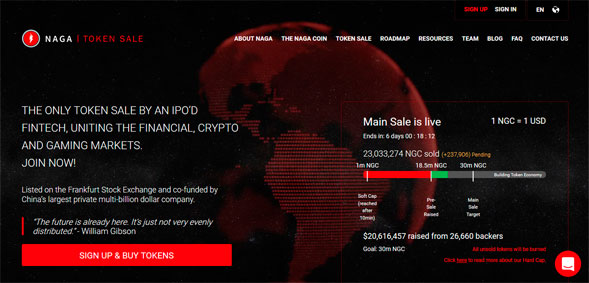 Conclusion
When we look at the Naga Coin ICO review, we can not ignore an important fact about Naga Group: they have an existing profitable business. We are talking about Swipestox. The project has a multi-million dollar volume, far ahead of its competitors.
The Naga Coin ICO team is also very strong. We can see Yasin Qureshi supporting the project. They also have a solid list of advisors.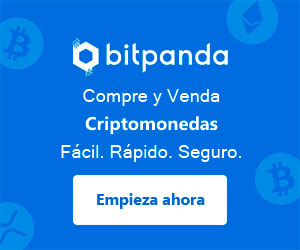 The demand for a trusted virtual goods market is another important point for Naga Coin ICO.
While teenagers and general players spend millions of dollars per month on purchases in games, there is no central market or regulator for this niche market, at least not yet! Therefore, bringing a market space backed by blockchain for that market will very likely bring a strong demand for Naga Coins.
In addition, the virtual goods market platform, Switex is a joint venture with Deutsche Beurse AG, where Naga Group owns 60% of the shares. It's another indication that this project is worth pursuing.
To summarize, we see great potential for this ICO. Perhaps Naga Coin ICO, in this brief remaining period of the year, will perform as the best ICO of 2017, and who knows, maybe also of 2018.018 too.
---
¿Would you like to comment? Share and follow us
Facebook: @teraweb.net
---
También te puede interesar